A shot of "surprise & delight" with a chaser of ingenuity.
OPEN WHEN
For this staggered reveal, we collaborated to envision 7 different moments that a thoughtful item would come in handy for the recipients. Each small box or package had a designated prompt - hinting at the best time to open each - and was held in a fully printed shipping box. Each item was hand-picked for recipients to celebrate, share the love, take a deep breath, help ward off imposter syndrome or spark a midday dance sesh.
Suns out, Bons out
This VIP mailer was made for hot days, warm bons and cold brews - and included a fully printed beach towel, branded outdoor speaker, custom pool float, branded sunglasses with clings and a case, and an ombré bottle.
THE FANTASY SUITE
This Bachelorette "datenight" box was abundantly cheeky – playing off the idea of the "fantasy suite" and the "final rose" with a personalized satin pillowcase, rose petals ready to be strewn on their bed, rose-scented candle, s'mores kit, rose chocolate bar, caramel log, rose gummies, Prosecco rose drink bomb, custom keychain and doorhanger. Most importantly, we showcased JoJo and Jordan's personal stationery suite by The Knot as a flatlay on the printed platform.
WHAT TO WATCH
For this mailer, we put the spotlight on the Fire TV stick (with custom skin) used to access the app that features games to discover #whattowatch together. Recipients opened the doors to reveal insta-ready content for media influencers; a collection of on-palette candy, a cocktail kit and graphic coasters–all presented in custom holders. The entire platform lifted for more treats including the tik tok-favorite "Sunset Lamp" and a perfect popcorn popper paired with a "Variety Show" of kernels.
CHAMPAGNE EVERYTHING
For their 25th Anniversary, The Knot celebrated RHOBH couple Kyle Richards and Mauricio Umansky (who were also celebrating their 25th!) on their cover. This mailer, geared toward real Bravoholics, made room for a taste of the good life (ahem) with champagne EVERYTHING (truffles, popcorn, gummies), golden "25" sparklers & matches, the 25th issue, and a custom Shotski for two - personalized with each recipients' name - all held in a custom platform. A voice message from Kyle played upon opening.
BEAN-TO-BARISTA
This Bean-to-Barista Kit combined the charm of a little Costa Coffee shop mixed with a little brand storytelling and insight into their craft. The lid has a pop-up awning and doors that open to reveal their message. For the main attraction, we created die cut platform "doors" that open to show infographics about the Bean-to-Barista process and the story behind the beans. Beneath the platform is a treasure trove of professional quality tools and everything a barista needs for the perfect pour.
FRESH & MODERN
This modern, vibrant mailer was all about encouraging recipients to reflect and write their own story. Illustrating their three core values, we used fresh, simple elements including a live air plant (to breathe life into your values), branded journal (to tell your story) and a branded stylus/pen (to make your mark).
MAKE AN IMPACT
When our client created a new set of internal values, they wanted a creative, comprehensive way to share with all of their employees. We created an assortment of usable accessories that would double as a daily reminder of their value statement. It didn't hurt that they had bold, colorful graphics and a fun ombré for us to play with. A custom mousepad, notepad and double-sided doorhanger were paired with a set of ombré statement pencils, with a value assigned to each.
COVERED & SECURE
For this mailer, the client wanted the emphasis to be on fully integrated packaging that didn't use any extra fill or materials. We engineered the custom platform to securely hold and present 5 useful protective items: a branded sani-key, branded sunscreen and hand-sani on carabiner, handmade facemask and branded umbrella. *Client logo removed for social media.
STAY WELL
Wellness and Self-Care are not just trends. Now, more than ever, a kit that provides small comforts sends the message that "We've got you covered". Amp up everyday self-care with a custom tea blend, honey sticks, immune booster, comfy socks and other small practical luxuries.
SAFE TRAVELS
Whether you're asking your staff to travel for work or reassuring guests traveling to a conference or resort, a smart on-the-go kit expresses that you care. All the typical necessities are included plus a few tools to make the journey more comfortable. A travel tea tin, hand sanitizer and surface spray round out a selection of compact goods all held in a useful elastic organizer.
SIMPLY ON-THE-GO
Help them streamline their packing with compact, clever and simple solutions. With an emphasis on portability, practicality and hydration, this kit includes a travel humidifier, collapsible water bottle and hydration multiplier, while hand sani, screen cleaner and all-purpose wipes equip them with some serious germ-fighting tools.
BRUNCH-ON-THE-GO
A custom printed, interactive Brunch-on-the-run box with a custom word search, hidden picture reveal (with answers to both printed on bottom of box) and a departure note from "Story Val" was filled with local brunch treats to send guests on their way. Photography by: Laura Dee
ENERGIZE & GROW
A small collection of unexpected goods illustrated the goals of the agency meeting; Inspire (hops salt), Build (aromatic and therapeutic clay), Energize (roll-on scented pick-me-up) and Grow (air plant). All held in a custom wooden box with artwork printed on sliding lid. Each item had just the right amount of originality, sparking curiosity and interest, and combined to make a strong statement about the future of the brand. Photography by: Nathan Kanofsky
CUSTOM CRACKER
This customer relations mailer kicked off the new year while showcasing Criteo's global successes. The perfect vehicle was a custom party "cracker" with traditional items found in a cracker, like paper crowns, confetti, motto cards plus some fun additions like "cheerful mind balm", thinking putty and mini sparklers. Our favorite part: a series of Case Studies printed on an unraveling paper scroll. A personalized message to each recipient wrapped around the party cracker.
JUNKANOO MAILER
This Atlantis kit celebrates the local Junkanoo culture of the Bahamas with a fully sensory experience. Created as an invitation for site visits for corporate planners, recipients opened the box to hear Junkanoo music as the sea-inspired scent wafted from the custom candle. The custom artwork of Atlantis sea-life on a small canvas and easel serves as a reminder of their visit to Atlantis. Photography by: Nathan Kanofsky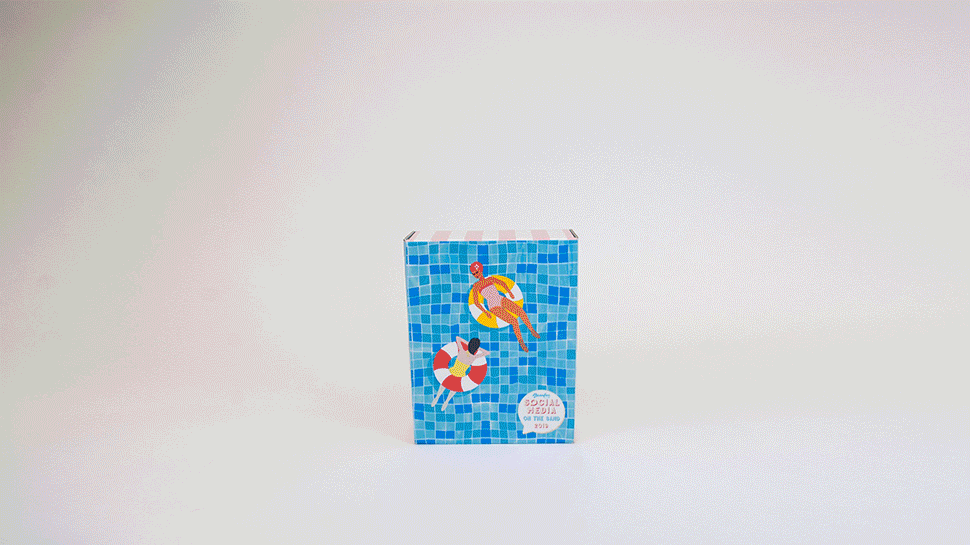 MAKE A SPLASH
The "Social Media on the Sand" conference at Beaches Resorts wanted to thank attendees after the event and inspire them to continue creating great content. Our solution: fun smartphone lenses in a branded tin, held in a fully printed shipping box with a faux phone and surprise compartment. Stop action by: MTM
SHEDDING LIGHT
This box we created for Criteo debunked an industry myth by associating each message to an unexpected set of tools and gifts and explaining the connection. We love taking a complicated idea, solving it visually and then making it tangible. Photography by: Nathan Kanofsky
A LITTLE MAGIC
Trade show survival kit with aromatherapy mist, refreshing eye gels, and hydrating lip balm – all with branded labels. Held in a branded little neoprene pouch with printed card attached to zipper pull. Photography by: Nathan Kanofsky
Stop-Action by Paul Burke
CARE PACKAGE
Turndown gift for a luxe camping-themed conference made to look like a care package; set of snacks, eye-drops, hangover drink and ice-pack all held in custom designed box with foil-stamped lid. Logo by Trisha Hay. Photography by: Nathan Kanofsky.
APPLIANCE PRODUCT LAUNCH
Series of VIP gifting at trade shows and for conference turndowns for product launch. Printed paperboard container with exterior designed to look like washing machine, with cocktail kit and recipe held inside. Bottom right: Good night / Good morning kit for Vegas attendees - snacks and hangover essentials held in tin with printed band. Photography by: Nathan Kanofsky.
HONEYMOON PREP KIT
Designed as a trade show gift, this kit included branded SPF lip balm and custom colored nail polish, "For sand-worthy toes and smoochable lips". Held in custom die cut printed paperboard box. Photography by: Jeremie Barlow.
SOUTHERN STYLE FOR BEAUS
Mens kit for a conference at The Biltmore in Asheville, NC. Custom made bow tie (with instructions), matching custom made pocket square (in paper pocket), sweet tea-scented shave cream and shaving brush. All held in a fabric covered hatbox printed with logo on lid. Photography by: Allan Zepeda.
LUXE CAMP-THEMED "SURVIVAL KIT"
For a conference in Bachelor Gulch, CO, a branded survival kit included: shoelaces, bandages, bug spray, stain stick, portable humidifier, sunblock, can of oxygen and SPF lip balm. All wrapped up in a custom designed bandana and tied at the top. Photography by: John Cain Sargent.
"HIS" AND "HERS" KIT
VIP welcome gifts for a celebratory event in Chicago. For her: layered tea and teabag, Sugar Rose scented candle and barrel matches, Champagne lip balm. For him: custom stamped collar stays in tin with sliding lid. Photography by Nathan Kanofsky.
TRIO OF BRANDED POUCHES
Zippered pouch, wetsuit bag and sunglass case held together on a ring: Sun, Sand and Scene. Filled with bathing suit detergent, branded lens cloth, sunscreen wipes, hangover remedy, eyedrops and fashion tape. Photography by: Nathan Kanofsky.
DESERT KIT
Desert location and Moroccan architectural details inspired these two kits. Left: branded personal mister, stress relief patches, lotion, eye drops, "Lip Duo" set (lip scrub and polish) - all held in clutch with custom zipper pull. Right: Candle tower - trio of custom candle tins with branded, oversized matchboxes held in patterned and die-cut box. Photo by: Chellise Michael Photography.
STAGES OF RECOVERY
Custom designed paperboard container with die-cut holders for each item, coordinating with the "Stages of Recovery." Illustration of dogs and life preserver by Fineasslines. Photography by: Nathan Kanofsky.
BATTLE-READY KITS
"His" and "hers" kits with battle and victory theme. Confetti popper, glitter nail polish, facial mist, lip butter, hair ties and metallic wristlet for her. Stamped leather keychain, custom collar stays, shave set, brass bottle opener and dopp kit for him. Logo, concept and design by GGL. Photo by: Nathan Kanofsky.
FUN KIT
Turndown gift for a luxe camping-themed conference made to look like a care package; "Fun Kit" filled with Tic Tac Taffy bag and Plastic Bubbles set, held in custom designed box with foil-stamped lid. Logo by Trisha Hay. Photography by: Nathan Kanofsky.
CUSTOM COCKTAIL KIT
Lavender Mint Julep Cocktail Kit for Brides and Grooms at The Greenbrier. Branded coasters, stirrers, mint leaf sugars and simple syrup​​ - in packaging that incorporated their signature patterns and style. Photography by: Nathan Kanofsky.
RENEW YOUR MANI
Custom colored nail polish set to go with the five shades of Cayman; Palm, Sea, Sun, Sand and Stingray. Photography by: Rebecca Davidson.
SOUTHERN OLD FASHIONED
Prohibition-style cocktail kit in faux book. "Southern Old Fashioned" complete with bourbon-soaked cherries and a branded muddler. Logo, concept and design by GGL. Photography by: Jeremie Barlow Photography & Allan Zepeda​​.
BACKYARD CHEMISTRY SET
The periodic table of elements was used as a design theme, paired with the photographers images throughout. Printed paperboard container with die-cut holders for tubes of mix, rimming salt, alcohol and collapsible cup. Photography by: Nathan Kanofsky. Paired with photographer Jasmine Stars images throughout.
"HELLO, SUNSHINE" KIT
Necessities for a good morning: detox bath cubes, sun Tea for eyes, branded earplugs, silk eye pillow filled with lavender, mercy hangover prevention beverage. Photography by: Chellise Michael Photography.
MAKE YOUR OWN MARGARITA
Playfully features the stages of a hangover with corresponding "tools." Tequila bottle illustration by Fineasslines. Photography by: Nathan Kanofsky.
FLAPPER-INSPIRED GALA PREP KIT
For "Guys" and "Dolls"; engraved collar stays, shoe shine wipes, heel protectors, bobby pins, etc. - all held in kraft drum with printed labels. Photography by: Allan Zepeda.